'FALL' international collaboration, Cui Yi with Margaret Worth, Zhenjiang Exhibition Hall, Hangzhou, China.
A very pleasing collaborative outcome from grafting thoughts, ideas and works, shared between Yi and me. This is a group show at Zhejiang Exhibition Hall in Hangzhou. Our work 'FALL' is in the foreground.
---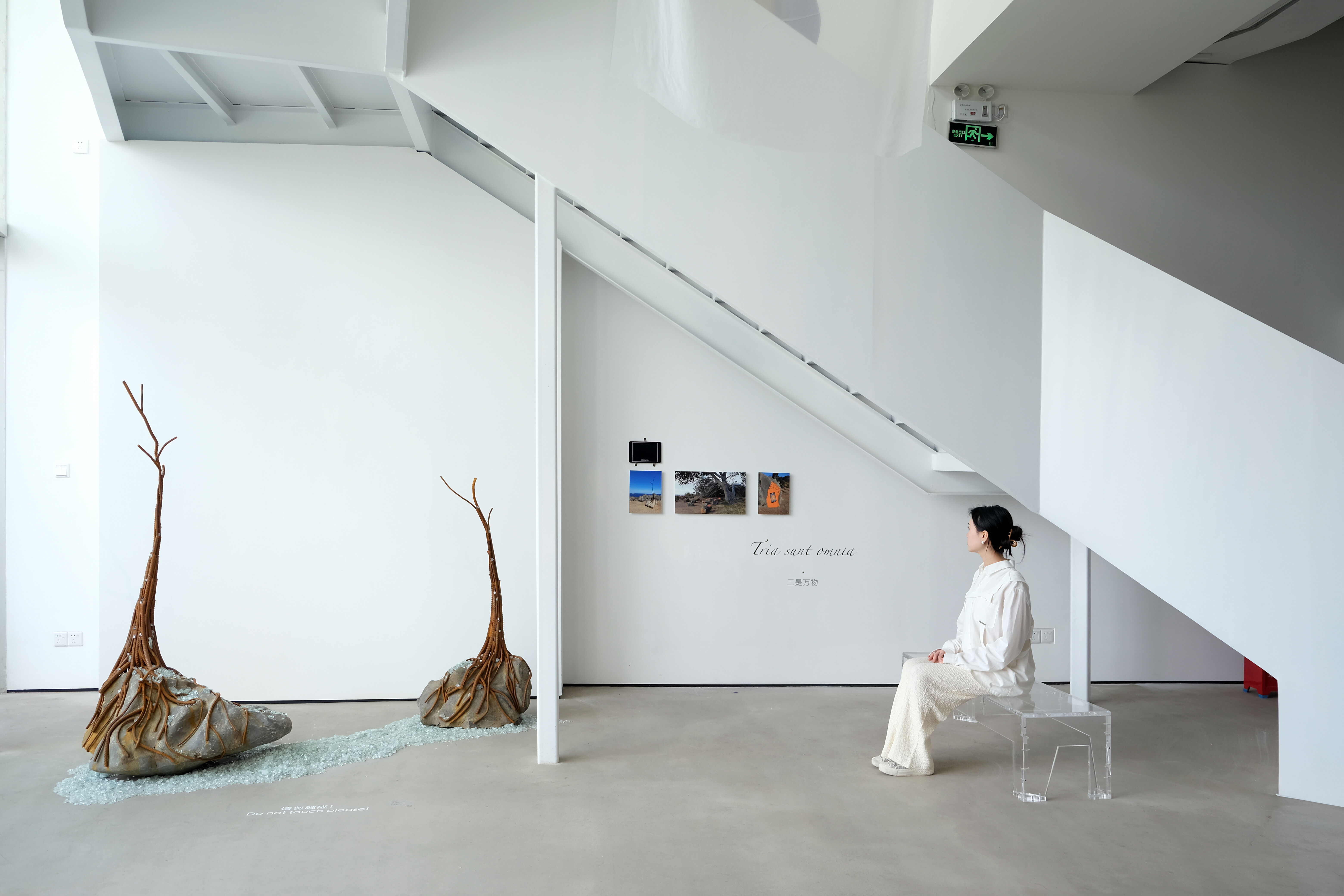 'Silicon Garden' installation: Cui Yi with Margaret Worth, W.ONE SPACE, Shenzhen, China.
The organic form of the sculpture is formed by the inorganic matter of human society, and the silicon element, in the form of glass, is attached. It is as though technology is a kind of crystalized aloneness that is enveloping Life.
---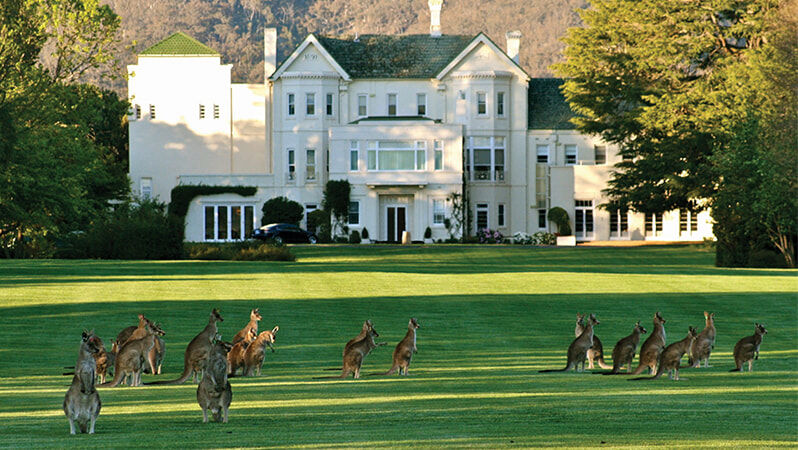 'VAJRASANA meditation': New home at Government House Canberra
A most welcome Christmas present: VJRASANA meditation, which won the Lorne Sculpture Biennale 2018, will be going to an excellent new home in the grounds of Government House Canberra. See https://margaretworth.com.au/Landfall-Lorne-Sculpture-Biennale-Victoria-2018-curator-Lara-Nicholls~852
Looks like it will also have excellent company on occasion!
---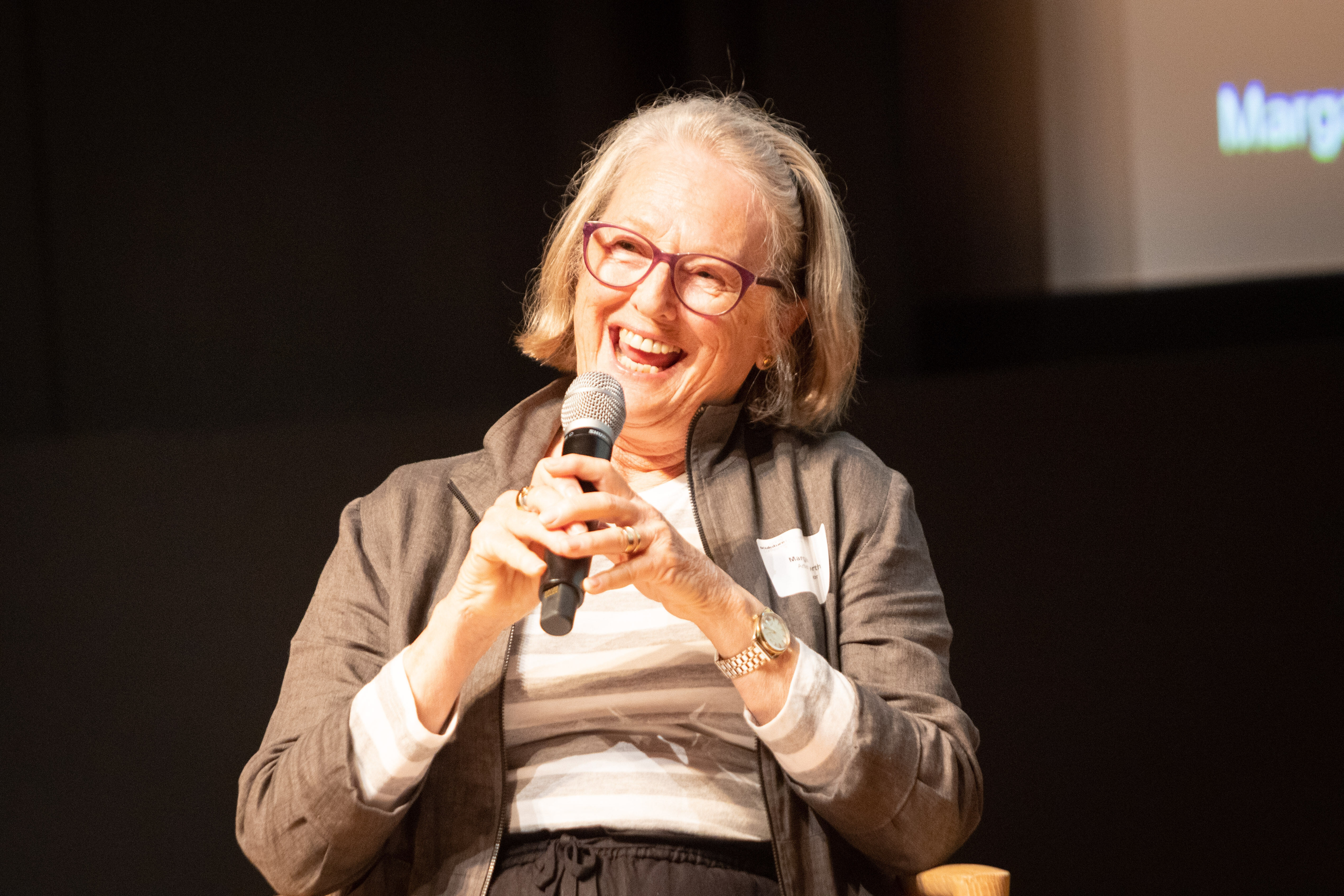 Sydney Sculpture conference 2020, Art Gallery NSW
The Sydney Sculpture Conference 2020, held at the Art Gallery NSW, included Takura Kurakouchi, Chief Curator of the Hakone Open-Air Museum Japan, Dr Lucina Ward, Curator International Painting & Sculpture National Gallery Australia, Prof. Paul Tacon, Chair in Rock Art Research, Griffith Uni. Queensland, Paul Boardman, Head Engineer Gibbs Farm NZ and a panel talking about 'Sculpture Encounters' on Granite Island SA. Open air collections worth noting are rare in Australia but 'Sculpture Encounters, Granite Island' is one of them. Audience interest was demonstrably high - good for the region and good for the State. It's also a best-practice model for the artists. I'm proud to be on the working group for the program.
---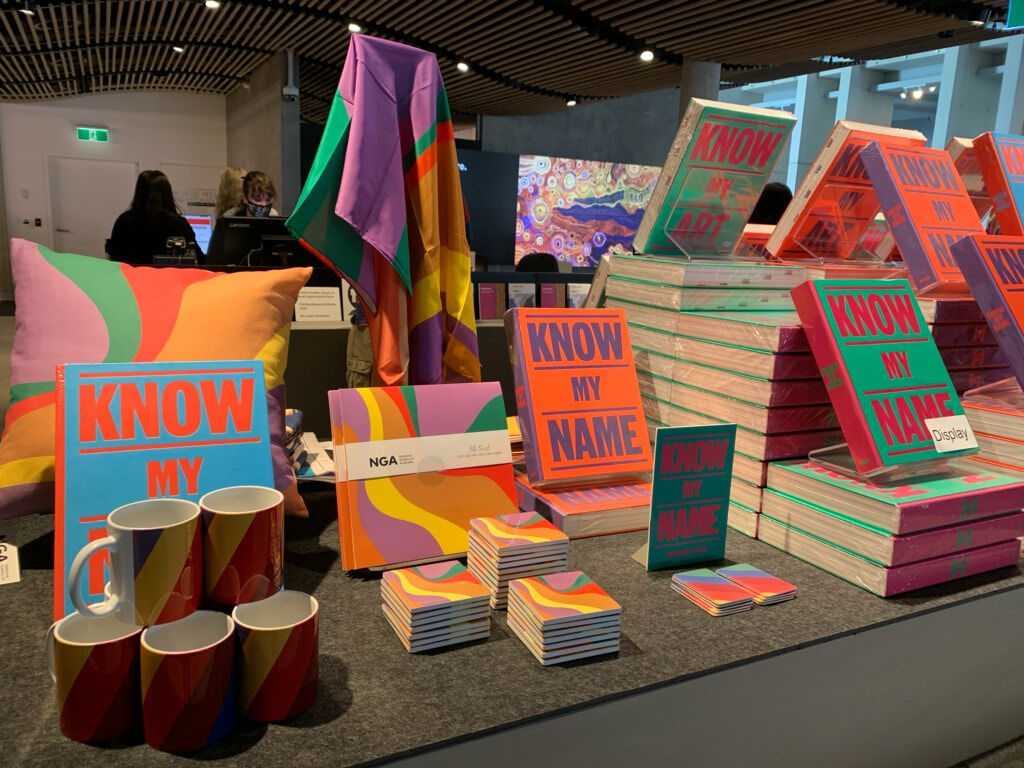 'Know My Name' merchandise National Gallery Australia
Opposite to professional opinion when I was a student, it feels like I've made it, in some special way, to be featured in the merchandise at the gallery.
---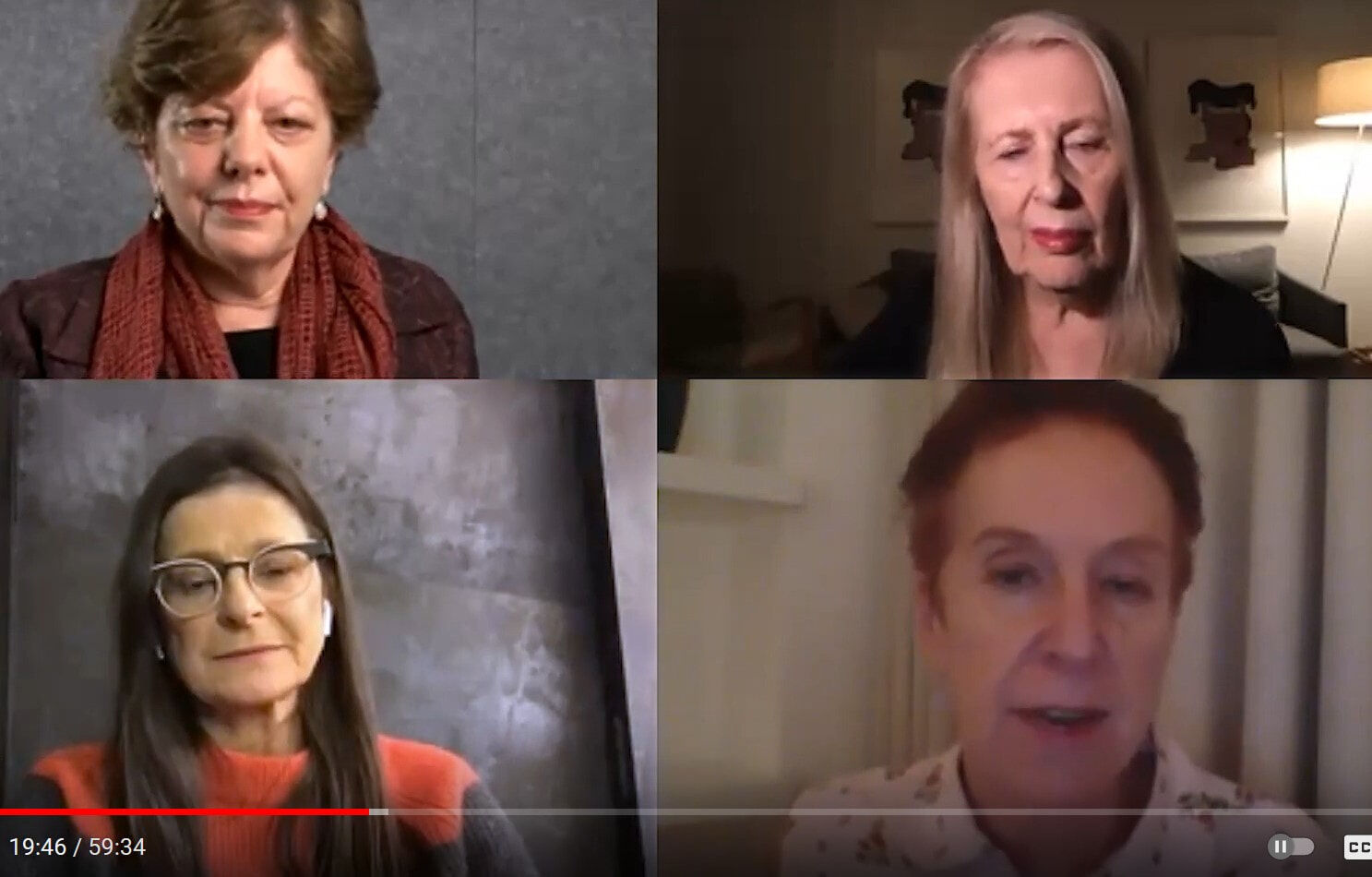 'Art Talks' international webinar on 'Know My Name'
What's so important that the Museum of Modern Art New York closes its doors for one year to do a complete re-presentation? And what's so important that the National Gallery Australia allocates six and more galleries, through 2020 and past July 2021, to present Australian women artists 1900 to the present?
Parity: in representation, value and support. And to achieve it, reparation is needed. That's what the NGA and MoMA are addressing, with the help of the American Friends of the NGA, by talking about it on 'Art Talks'.
https://www.youtube.com/watch?v=70mEgFCyCP8
My small part in the story comes at 48mins. in.
Hear Dr. Ann Temkin, Chief Curator of Painting and Sculpture at the Museum of Modern Art in New York; Dr. Deborah Hart, Head Curator of Australian Art at the National Gallery of Australia and Dr. Anne Summers AO, best-selling author, journalist and feminist talk to Time Magazine's award-winning editor-at-large Belinda Luscombe about a watershed moment for women artists.
---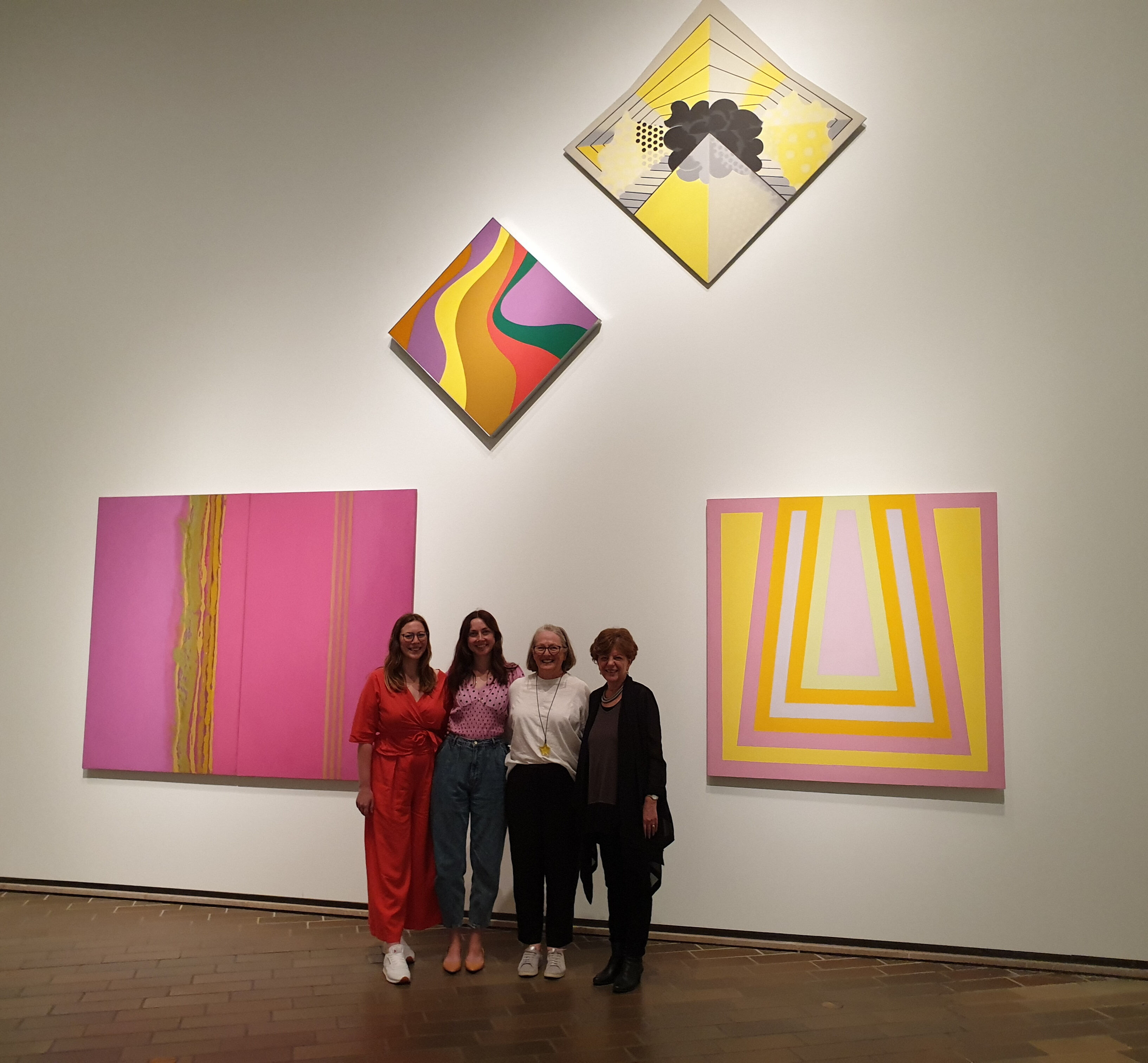 'Know My Name' exhibition launch at the National Gallery Australia 2020
'Know My Name' is an expansive presentation of Australian women artists from 1900 to the present at the National Gallery of Australia. With a cast of thousands and distinctive female energies, it is unlike any exhibition on this scale that I've seen. Revelations across time, place and artists create the 'everywhen' at its core. I am proud to have a place in this story.
My work 'Sukhavati No. 5' is above the project curators and me, R to L: Dr. Deborah Hart, MW, Elspeth Pitt, Yvette Dal Pozzo.
---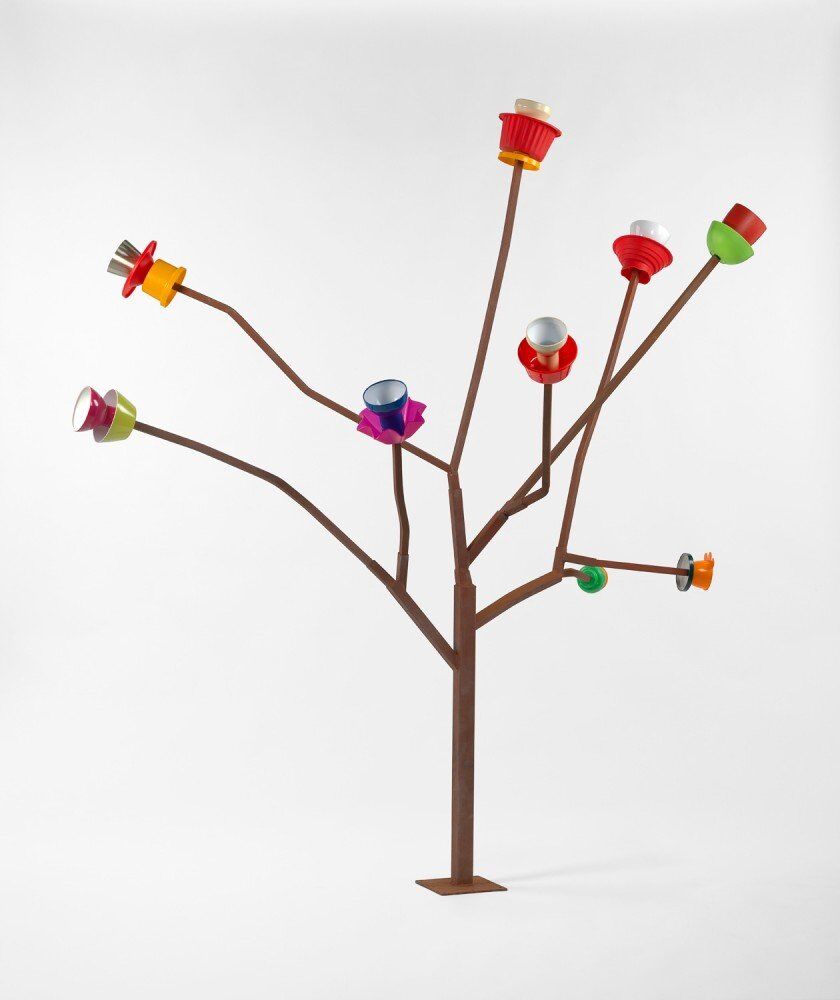 Out of Ashes
Out of Ashes is showing at The 2016 Heysen Sculpture Biennial, The Cedars, Hahndorf SA, until May 1st. The work is a collaboration with the poet Helen Burke and commemorates our friend and colleague, Pamela Kouwenhoven 1944 - 2014.
---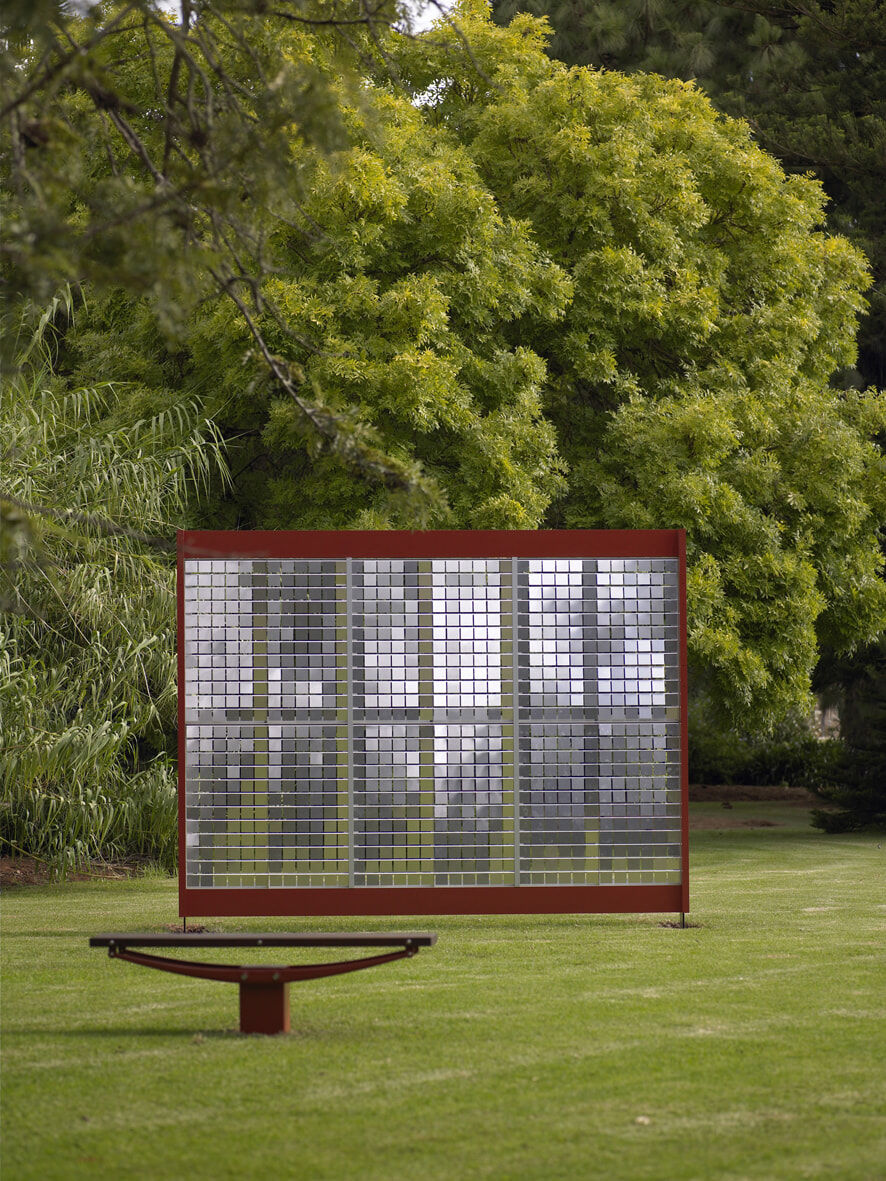 ---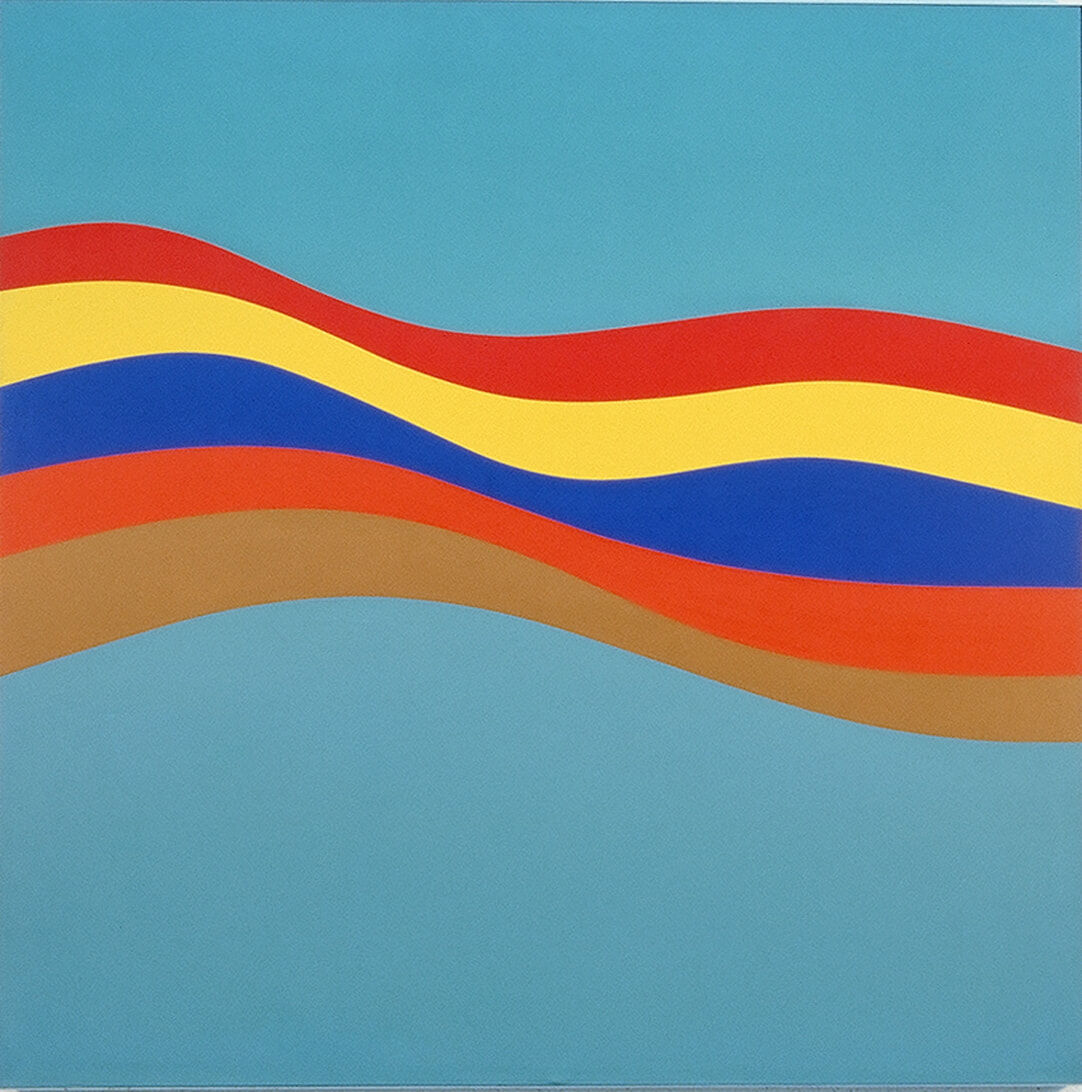 Curtin University acquisition 'Samsara 3'
---
'Edging Watching'
"Edging Watching' is a new work included in the exhibition 'Waterfront' curated by Annabelle Collett at Signal Point Gallery Goolwa SA, 2014. It has proved to be a seminal work leading to the development of new works that compose elemental materials with digital images and sound.
---
Digital Theatre with Steve Mayhew, Sam Haren and Dan Koerner of Sandpit
Excitement is high for the menteeship in Digital Theatre with Steve Mayhew, Sam Haren and Dan Koerner of Sandpit through 2016. I will be observing and participating in the creative development of three new works;
Eyes - with Sandpit (Sam Haren and Dan Koerner) and Steve Mayhew at Roxby Downs, SA.
Creation Creation – with Fleur Elise Noble, Jonathan Oxlade, Sandpit and Rosemary Myers of Windmill Theatre, at Renmark SA.
The Post Internet – with Post, (Zoë Coombs Marr, Mish Grigor, Natalie Rose) and Sandpit at Varcoes Foundry, Mt Gambier, SA.
I will be learning about theatre and interactive technologies. It will lead to the development of a project that combines visual art, the physical world and play-acting with interactive technologies and a virtual world.
---
Nasher Sculpture Centre in Dallas Texas
Margaret has been visiting the Nasher Sculpture Centre in Dallas Texas, The Museum of Science in Fort Worth Texas and SITE in Santa Fe New Mexico, 2012. Each one a great place in which to invest attention.
---
Out of Stardust and Heard it through the Grape Vine
Out of Stardust and Heard it through the Grape Vine are installations prepared for the Fleurieu Biennale at Fox Creek Winery in South Australia, 2011. The work is a further development of ideas that explore dusts.
---
Drop the Dust
Drop the Dust, an exhibition of 2D and 3D works with Pamela Kouwenhoven, is being shown at the Flinders University City Gallery, Adelaide SA for the SALA Festival 2010. It is described as 'bold', 'ingenious' and 'a new image of what is traditionally Australian'. The new works explore the realm of house dust and dust science and their development was assisted by a grant from Arts SA.
---
'Where are you? What time is it? How do you know?'
'Where are you? What time is it? How do you know?' is an exhibition that has had two incarnations to date. One at Signal Point Gallery in Goolwa during SALA Festival in 2013 and the other at Araluen in Alice Springs 2013,14. The concept presented an experience of simultaneous existences. It was a great learning experience about presenting the one idea in very different ways. And also how much more portable is digital media! For this project, Margaret collaborated with Cindi Drennan of Illuminart and the sound artist Tom Harrer, who created a sound work, 'Realitivities' using granular sythesis.
---
Dallas, Texas is a happening place! In 2014 Margaret visited:
The Perot Museum of Nature and Science, architecture designed to amaze, jam-packed full of families, kids on their own and adults, and a knock-out exhibition, 'Inside Out', of preserved [plastinated] body systems, including the blood vessels of a dog and the nerve system of a cat. No animals or humans were killed for these exhibits.
The fabulous Klyde Warren Park in the centre of the city and built over the freeway, with moveable chairs and tables, magazines and games on free loan, a magnificent reflection shelter area, a synthetic surface skating rink, a footy area and a children's play ground.
The new McDermott Concert Hall, Morton Meyerson Symphony Center, designed to impress, in both style and function.
Sight-seeing Highland Park Christmas lights, the Chinese Lantern Festival and the Ice Show at Gaylords – all done in a way that only Dallas can do! A demonstration of public places art - by the public - that creates a sight-seeing-industry initiative.
And of course another visit to the Dallas Museum, the Crow Collection of Asian Art and the Nasher Sculpture Centre. A visit also to the Amon Carter Museum of American Art in the beautifully refined proportions of the Philip Johnson building. Old favourites.
Next time the Downtown Arts District!
---
The 'One River: Alluvial Connections' project
The 'One River: Alluvial Connections' project, part of the Centenary of Canberra celebrations in 2013, is a collaborative undertaking that combines writing, performance, projection, song writing, sound composition and staging. It was presented at Signal Point Gallery in Goolwa SA before travelling to the Belconnen Art Centre in Canberra ACT.  See http://oneriver.com.au/one-river-projects/one-river-goolwa-and-murray-mouth/
---
Drop the Dust
After premiering the exhibition 'Drop the Dust' at Flinders University City Gallery in Adelaide, it has been presented at Maroondah Gallery in Victoria and Caloundra Gallery in Queensland before completing its journey at the Murray Bridge Regional Art Gallery, SA in 2013. The exhibition was successful in attracting record high numbers for viewing, especially students, for its development and presentation of connections to land.
---
Hansard Report March 2003
Hansard Report March 2003 "The artwork, On Occupied Territory, which highly regarded South Australian artist Margaret Wroth was commissioned to produce, is without doubt an outstanding piece of high quality public art.
Public art can be described as the practice of contemporary art outside the traditional gallery system. This form of art can be seen by a much wider and more varied audience than that seen by the typical art gallery visitor….an art form that has no direct class or social barriers.
Margaret Worth ….has achieved all this and much more. Through her work 'On Occupied Territory' she has been able to incorporate a recognition and a respect for the links that exist between our environment, heritage and community."
Hon Paul Caica MP Minister for Environment and Conservation, Minister for the River Murray, Minister for Water.
---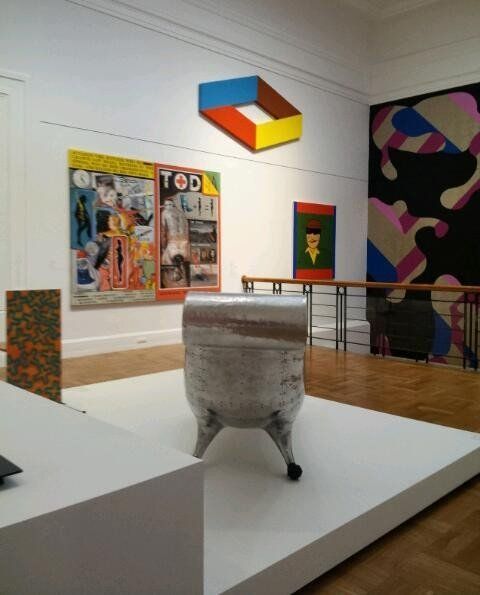 ART GALLERY SOUTH AUSTRALIA 2017
What a conversation - between my work and Juan Davila, Marc Newson,Robert Reko Rennie, Inge King, Andy Warhol, Syd Ball, Dave Dallwitz, Howard Arkley. Gordon Bennett, Peter Booth, John Coburn and more!?! As something like an aesthetic parallel to science's Theory of Unification - I love it!
---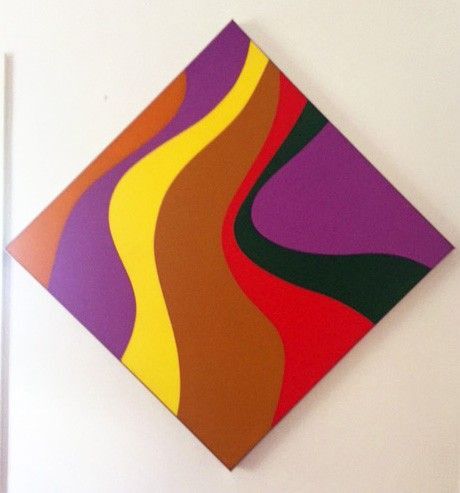 Sukhavarti No.5
see http://www.sno.org.au/sno-exhibitions-100-199#/122-1/ is showing at SNO Art Projects in Marrickville, Sydney until April 10th 2016. It's a blast from the past and looking great, thanks to an old friend. Look out for SNO Art Projects including my early work in late 2017.
---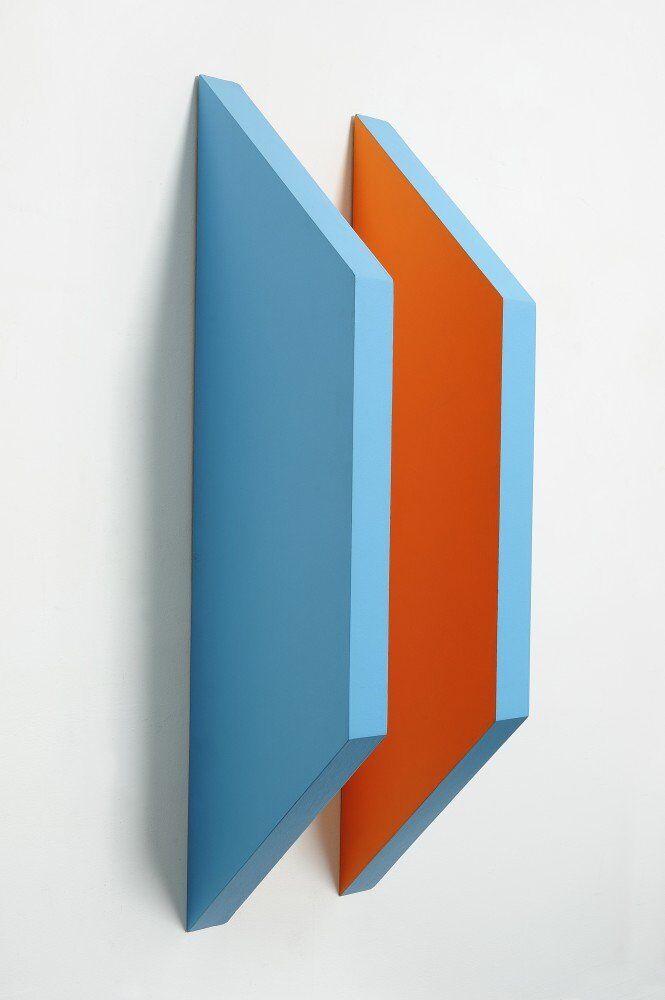 QAGoMA: "Hard edge, harmonious surrounds" in Artlines
"Recently acquired for the Gallery's Collection with the support of David and Judith Tynan, Margaret Worth's Untitled 1968 is a striking example of hard-edge abstraction by one of Australia's outstanding abstract artists. This rare modular structure tests the boundaries of painting and sculpture in a melding of colour and form," writes Peter McKay in Artlines 2019.
---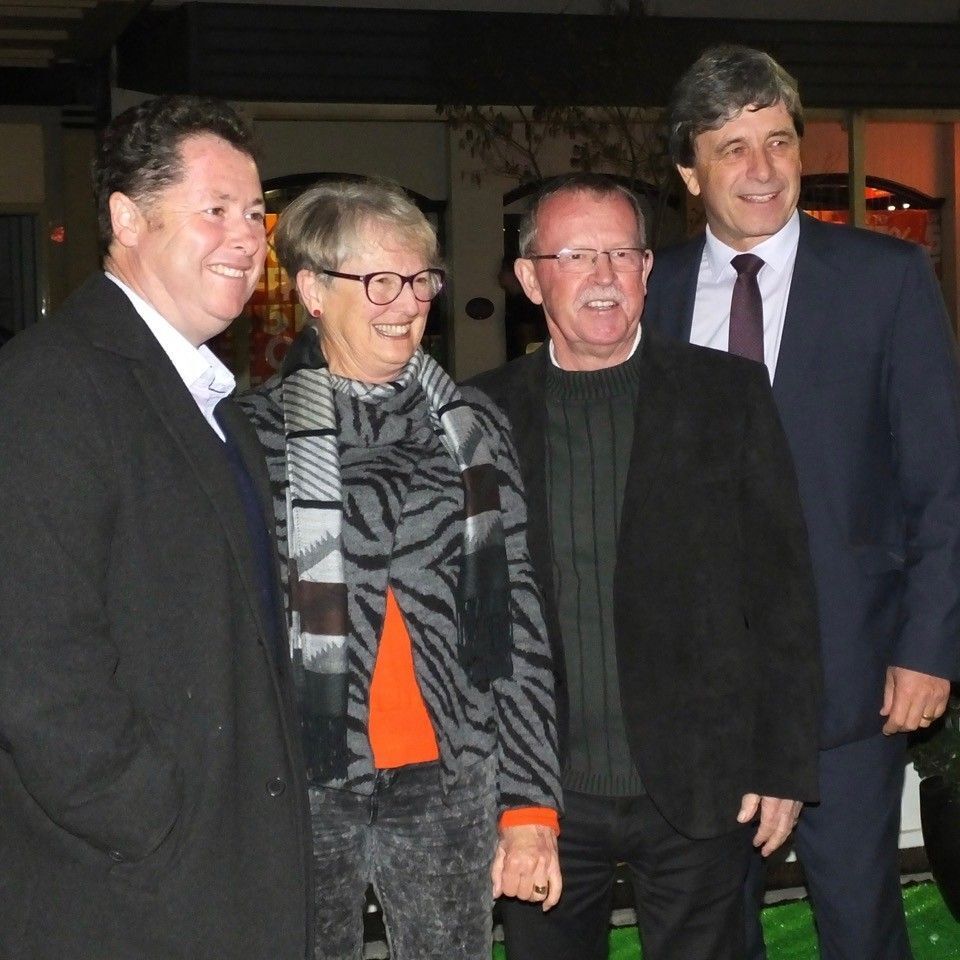 RIPPLE EFFECT Projection onto Victa Cinema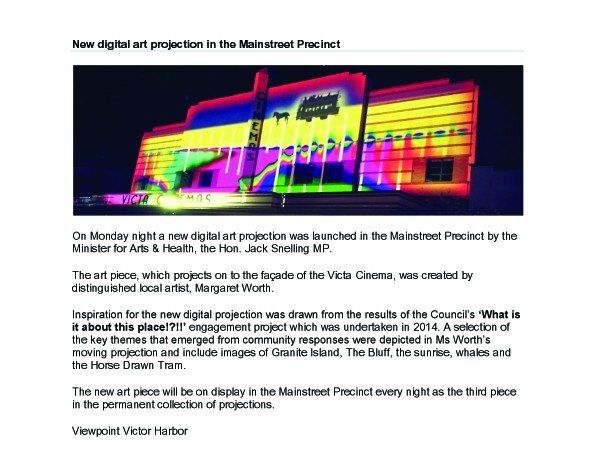 Launched by Minister Jack Snelling.
The artist with Minister Jack Snelling, Minister Geoff Brock, & Steve Saffel, CEO Country Arts SA
---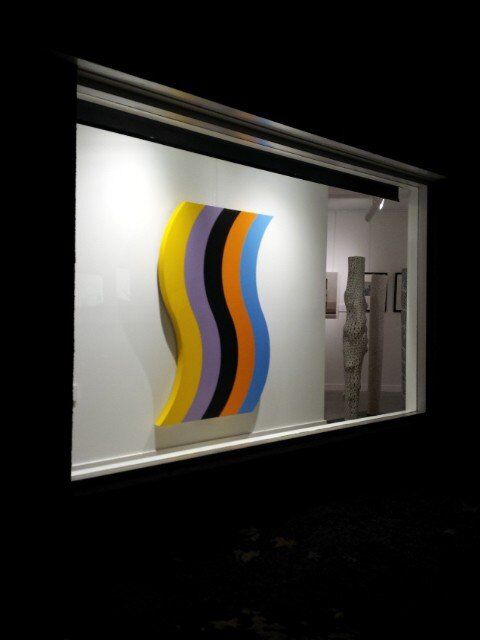 JUSTIN MILLER GALLERY Sydney 2017 'Samsara 18'
An unexpected and pleasant surprise to find when driving past one night on a visit to Sydney.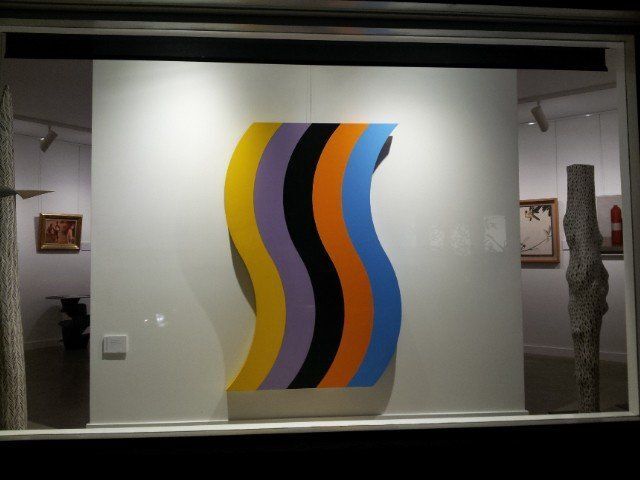 ---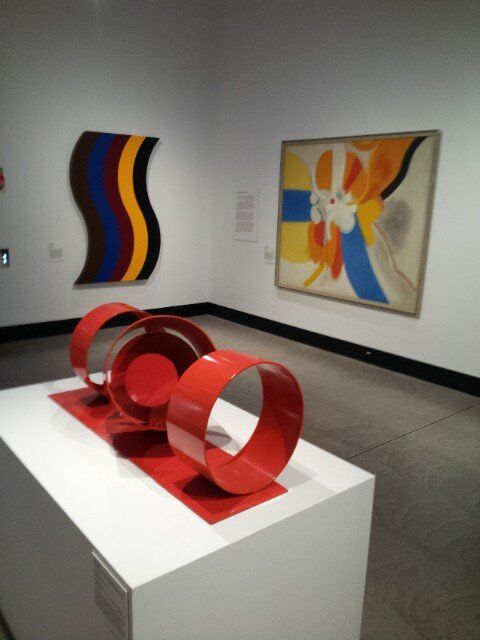 'ABSTRACTION: CELEBRATING AUSTRALIAN WOMEN ABSTRACT ARTISTS'
 It is curated by Lara Nicholls and includes a key artwork of mine, 'Samsara 17', from their permanent collection.
Geelong Art Gallery Geelong Vic 25 February –7 May 2017
Newcastle Art Gallery Newcastle NSW 21 May – 23 July 2017
Cairns Art Gallery QLD 15 September – 24 November 2017
Tweed Regional Gallery Friday 2 March – Sunday 20 May 2018
QUT Art Gallery Brisbane QLD Friday 1 June – Sun 26 Aug 2018
---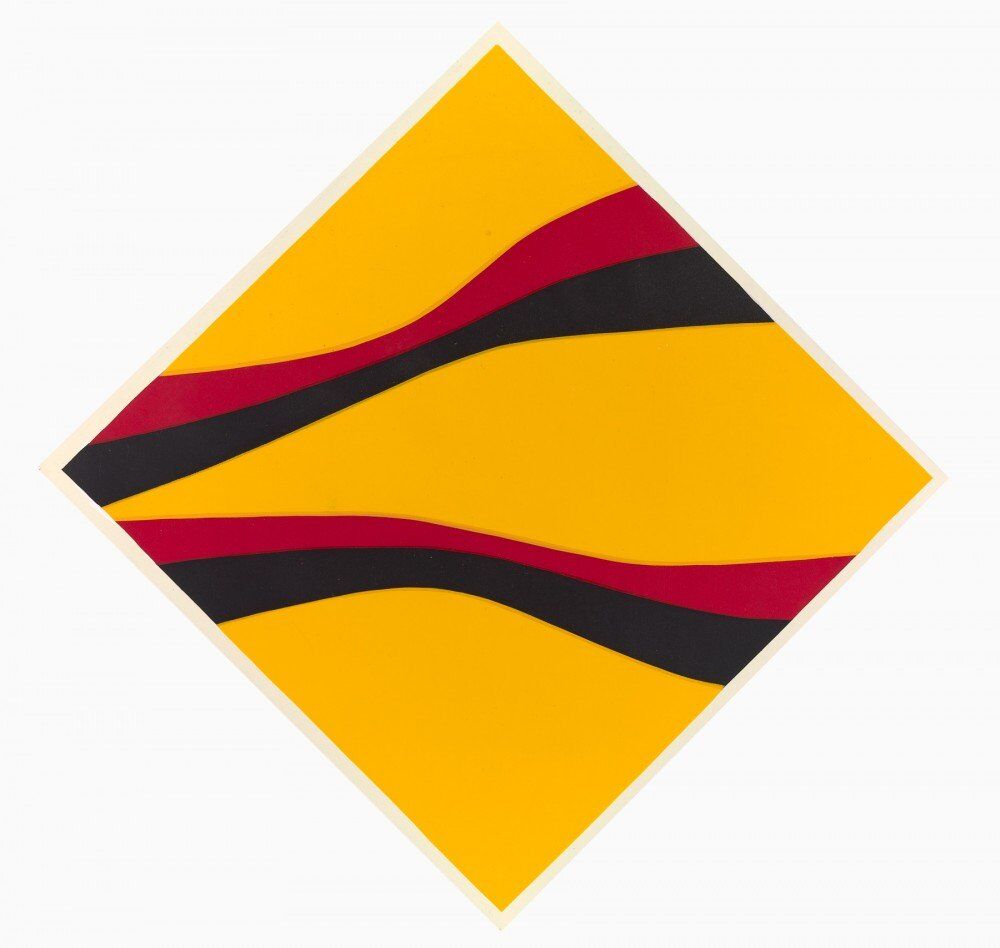 Early works from the 1960s
Early works from the 1960s will be shown at the Charles Nodrum Gallery in Richmond, Melbourne in May 2017. All enquiries to Charles Nodrum at gallery@charlesnodrumgallery.com.au 
---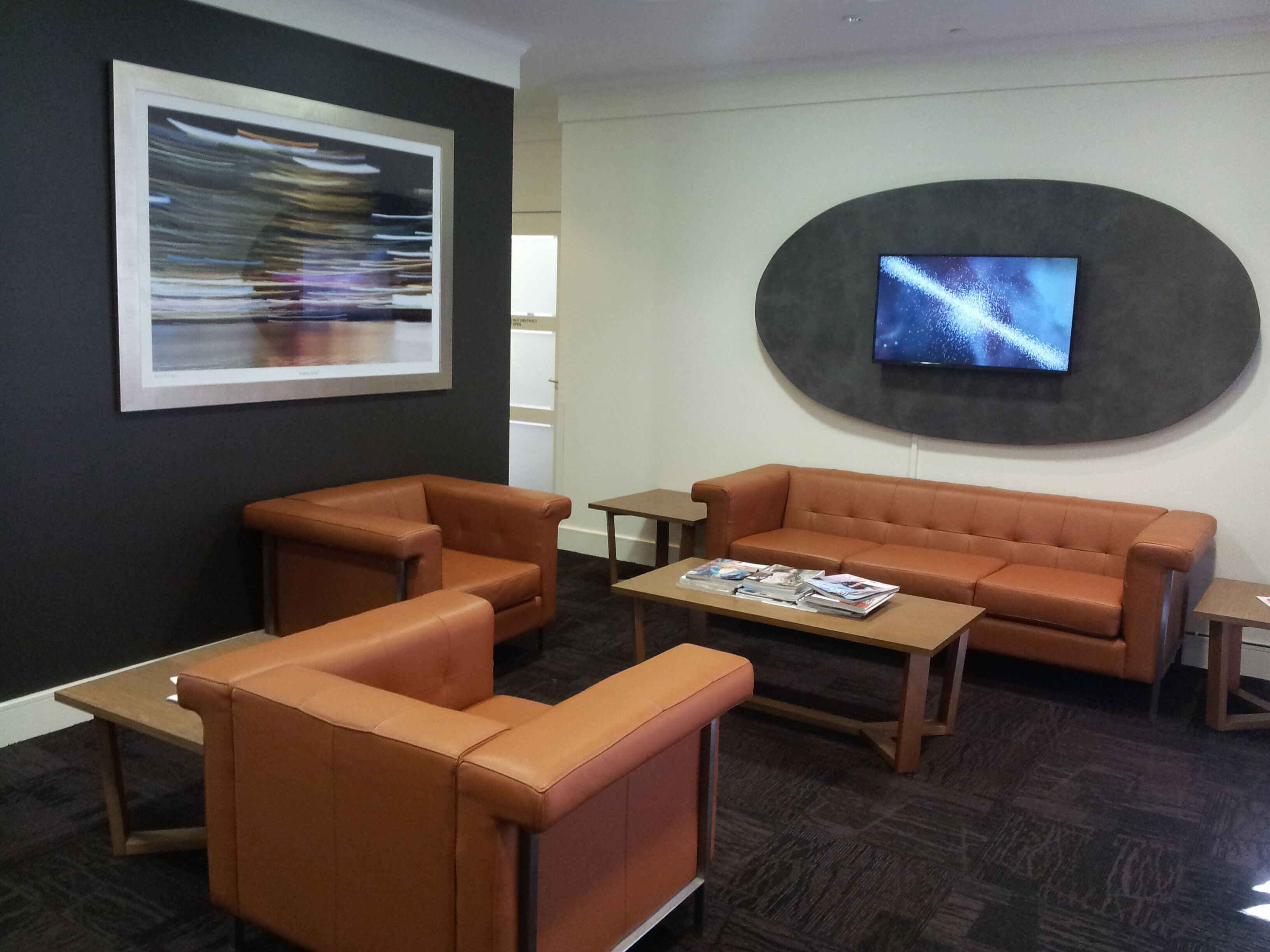 Earth, Water and Ether
Earth, Water and Ether have been installed at Helping Hand in North Adelaide on rental for 12 months. It's an exciting venture into new territory for all of us - residents, staff, visitors and me included. 2017
---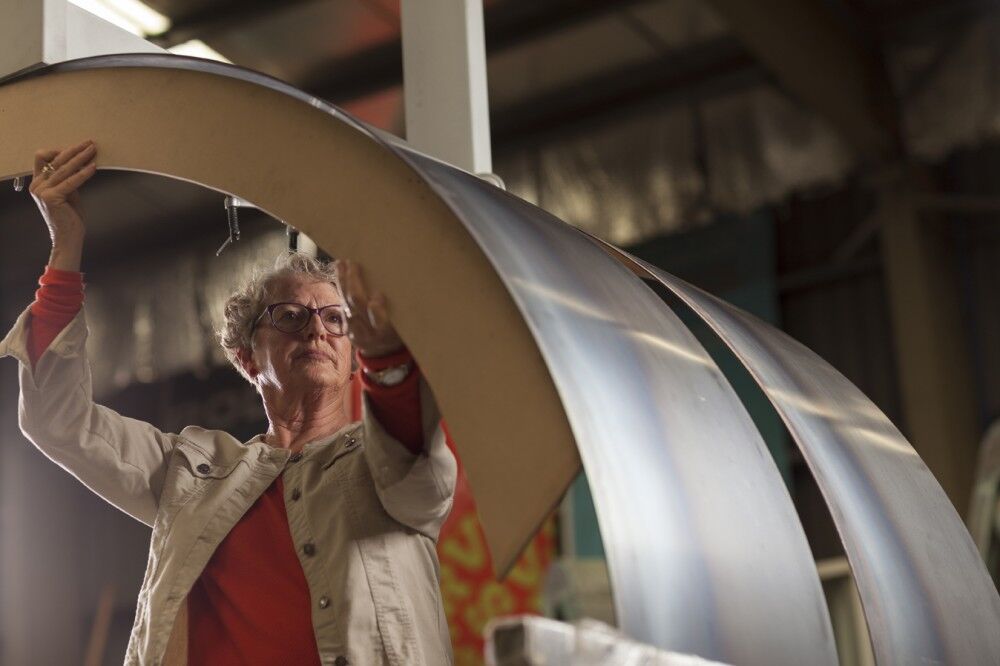 Interview by Elspeth Pitt, Curator Australian Sculpture & Painting, National Gallery Australia
An interview by Elspeth Pitt is included in the February 2020 edition of ARTONVIEW 101, Know My Name special edition, National Gallery of Australia. Thank you to Elspeth for such good questions, some that had not been asked before. My daughters remarked on learning things about me they had not known.
The interview can be read at: https://medium.com/national-gallery-of-australia/margaret-worth-an-interview-by-elspeth-pitt-182755497fa6 
---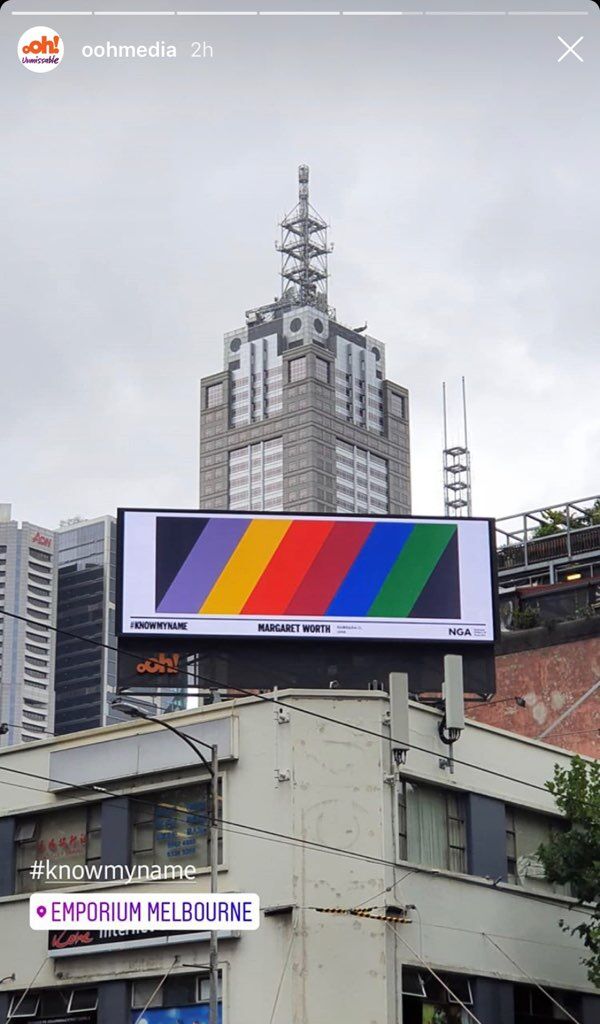 'Know My Name' Billboard Project throughout Australia
'Know My Name' is a 2020 project of the National Gallery of Australia that includes billboards across Australia. This one is of 'Samsara 11' (silk screen print) / 'Untitled' (painting) looking just right at billboard scale  on the corner of Swanston and Lonsdale Streets in Melbourne. https://nga.gov.au/knowmyname/ #KnowMyName; #KnowMyArt; @knowmyname. Photo: Elspeth Pitt
---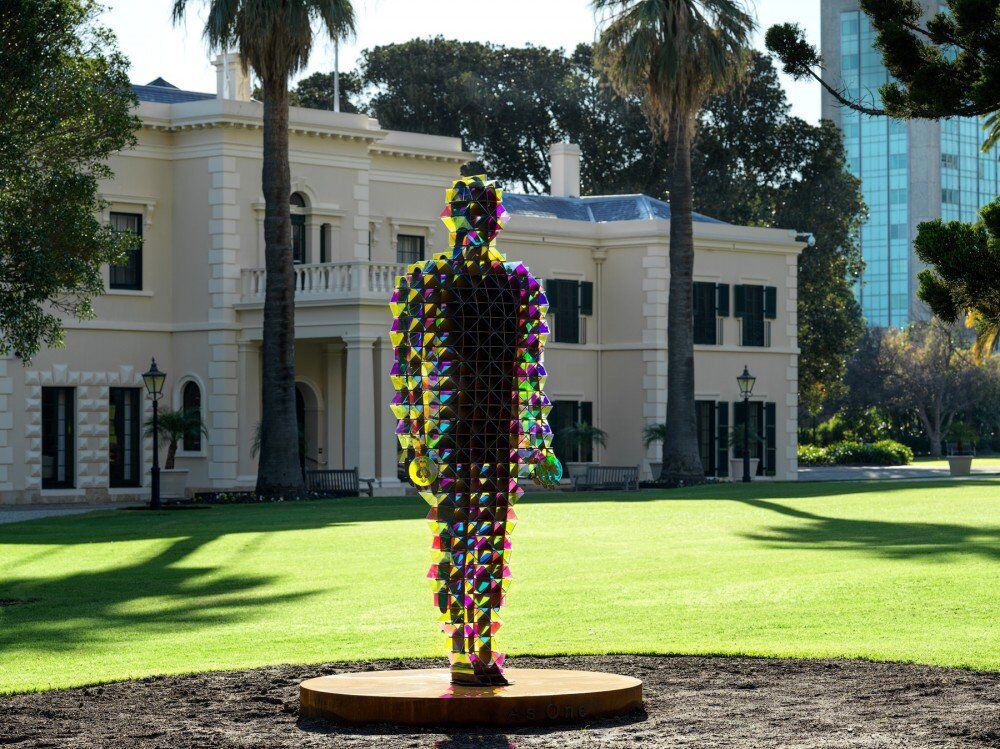 'As One'
'As One' is now installed in the grounds of Government House. The changing light interacts with dichoric plates creating an aura of colours that is constantly changing. The artwork presents the role of governor as a figurehead that interacts constantly with the diverse components of civil society.
https://margaretworth.com.au/works/government-house-residency
---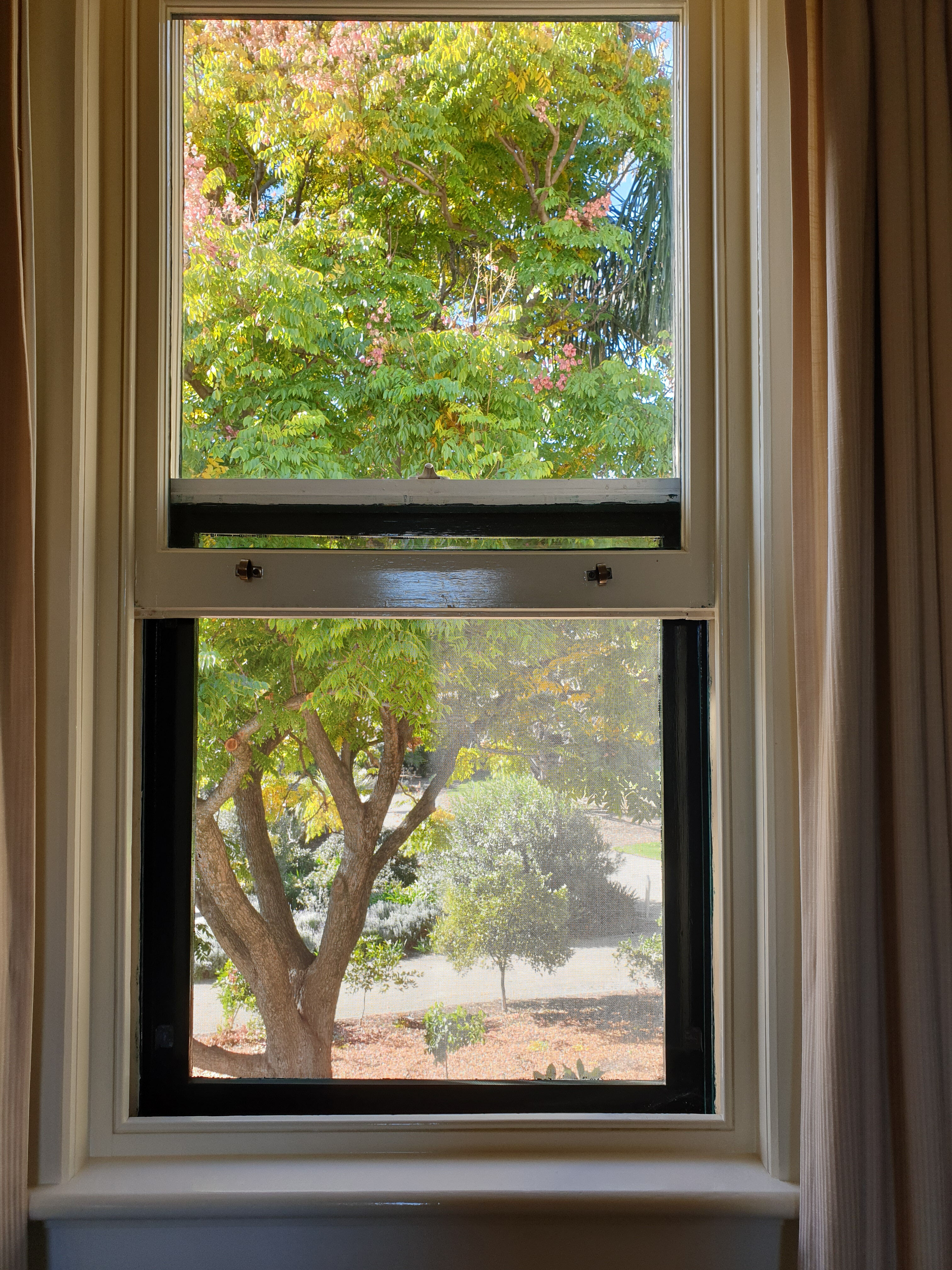 Government House Residency
Government House Residency 2018-'19 has been awarded to Margaret. While staying at Government House she will undertake research into the role and public presentations of governor in preparation for creating a sculpture for the grounds.
---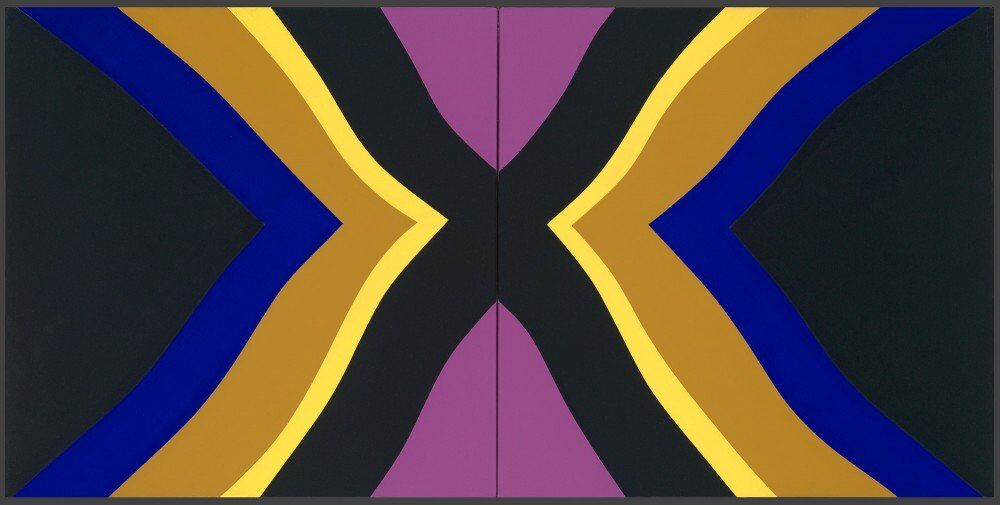 'Fragment 9'
Fragment 9 is hanging in the 20th Century Art wing of the national Gallery of Victoria, Ian Potter Centre, Melbourne. It is hanging next to a Syd Ball painting, marking the cross influences at the time, and in the company of maginificent works by Virginia Cuppaidge, Inge King, Norma Redpath and Lesley Dumbrell.
---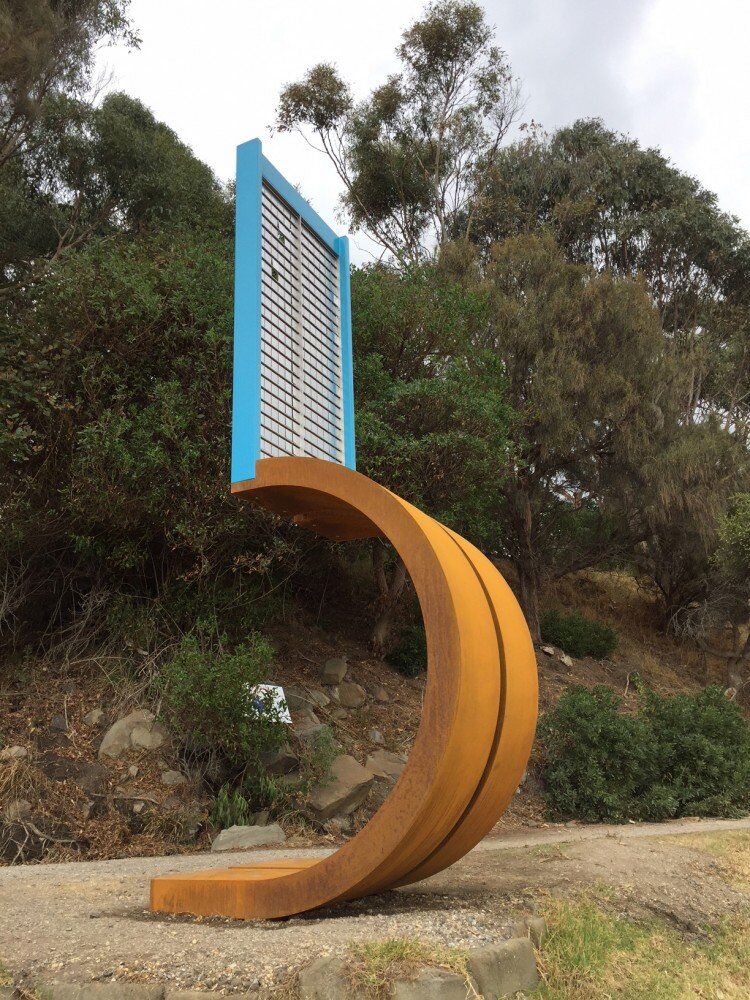 'VAJRASANA meditation'
'VAJRASANA meditation' won the 'Landfall' non-aquisitive, Lorne Sculpture Biennale Award 2018 for $20,000. The words of the judges say so well everything that I work for.
The judges for the LSB Landfall Non-Acquisitive Award and the Emerging Artist Award are Charlotte Day, Director of Monash Gallery; Max Delany, Director of Australian Centre for Contemporary Art (ACAA), and Jason Smith, Director of Geelong Gallery.
Spokesperson for the judges, Max Delaney said, "Margaret Worth's work is an outstanding, complex, resonant work which is formally compelling and rich with association. Her simple, sculptural form demonstrates an extraordinary range and breadth, from her deep involvement and knowledge of 20th century modernist sculpture coupled with the experience and surprising complexity of 21st century contemporary forms and ideas."
---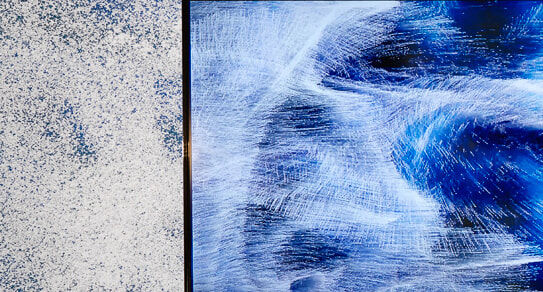 'SOUND WATER WAVES'
'SOUND WATER WAVES' an exhibition to be presented at South Australian School of Art Gallery 28th October - 24th November 2017.  Cross-disciplinary practitioners Margaret Worth, Bridgette Minuzzo, Heather Frahn and Lorry Wedding are collaborating on works that present an integrated and immersive experience of visual and aural properties in water. It comprises light, sound, cymatic wave effects, projection, performance and objects.
---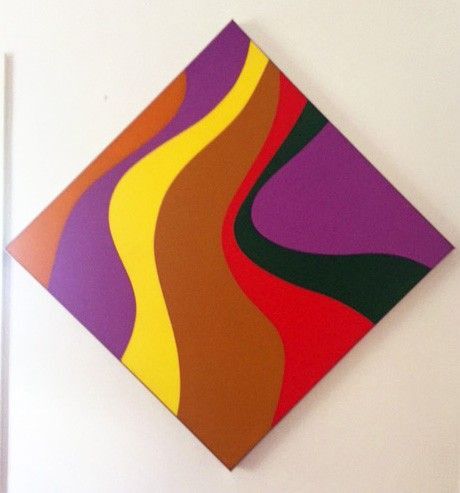 'RETURNING TO THE FIELD EXHIBITION #3'
"Returning to the Field #3 is a contemporary response to the iconic The Field exhibition of 1968. It traces the history and critical distance that new formalist abstraction in Australian art has undergone since 1968. It aims to position in this trajectory of 'abstract' art, a set of contemporary counterpoints that re-addresses historical aspects of the 1968 exhibition. As well as visual art it includes a program of corresponding art forms and disciplines in music, literature, performance and design as a device to help unpack the meaning of contemporary art in the broader sense of its practice and influences.
Ruark Lewis, Curator & Artist
Andrew Leslie, Director and Curator
SNO Contemporary Art Projects
---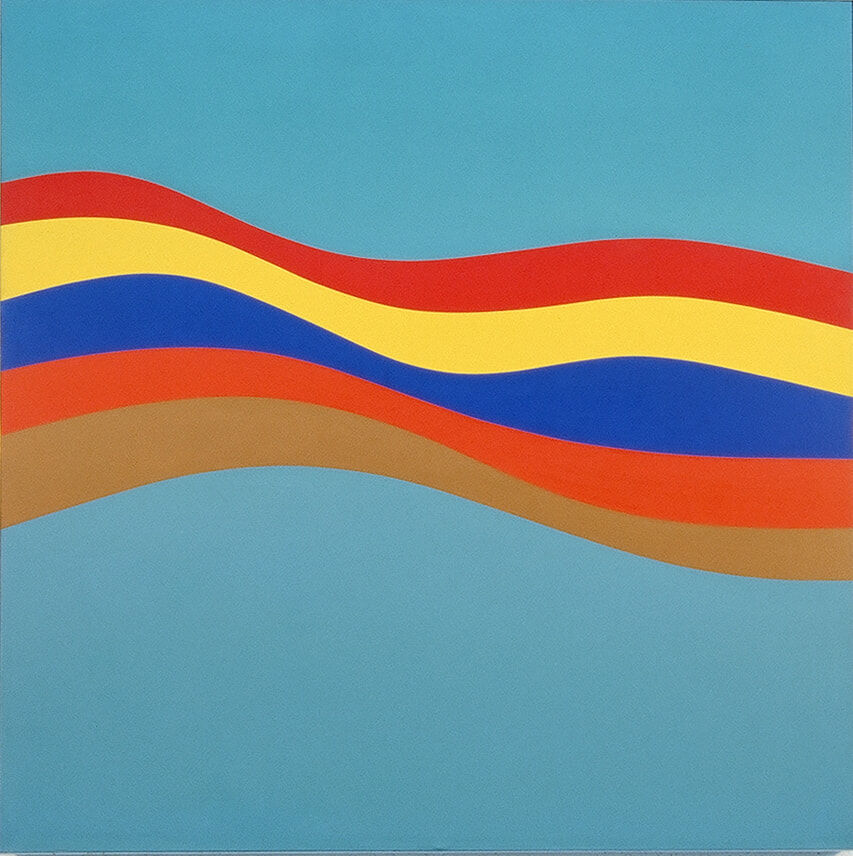 'MARGARET WORTH'
In the studio, while checking and preparing them for transportation, they made the space sing with their colour and energy. The works are a celebration of optimism and visionary aspirations – the characteristics of their time.
---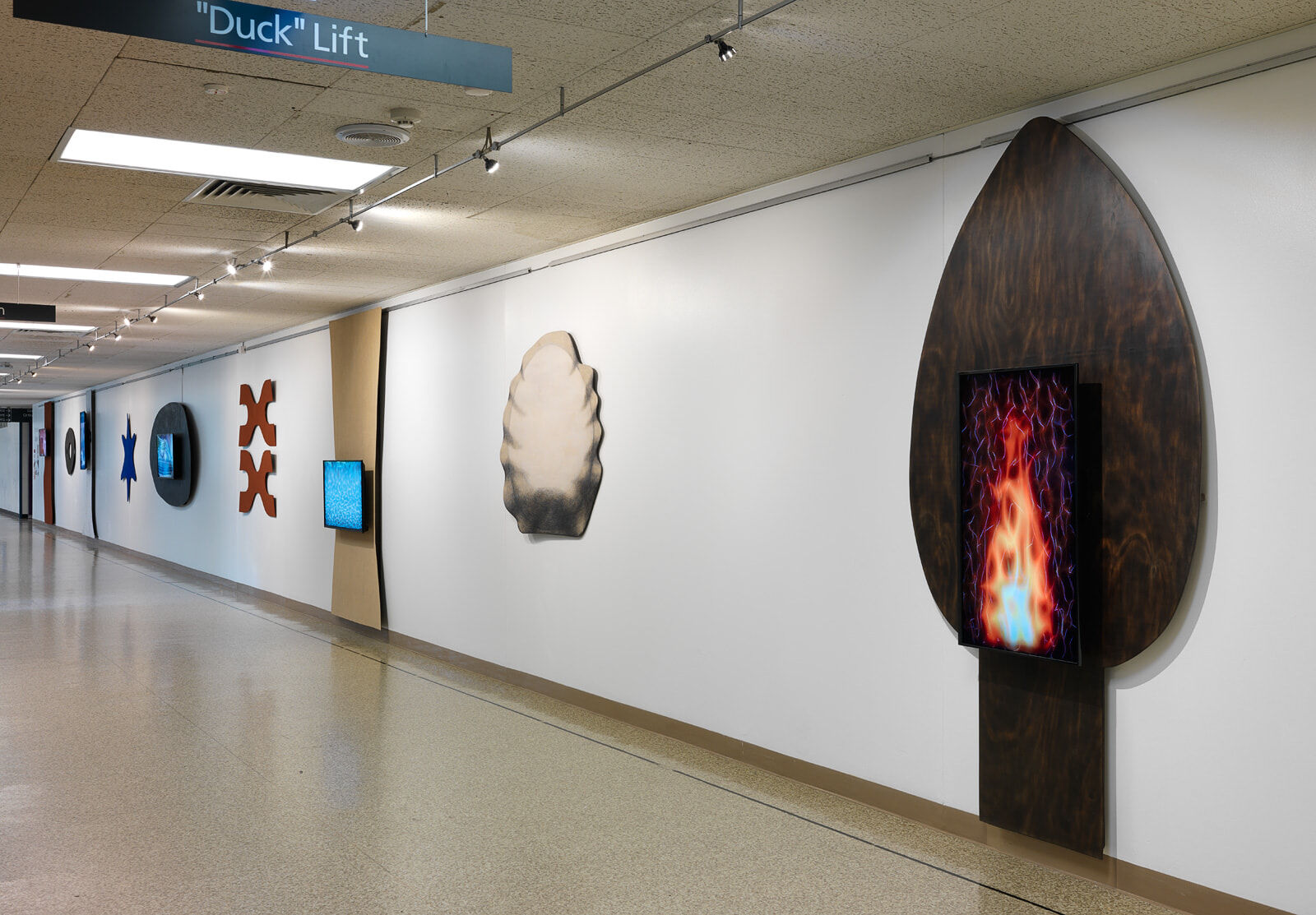 'Mining the Mind: Material Memory'
'Mining the Mind: Material Memory' has opened to a highly responsive audience expressing excitement and individual engagement. They have given great encouragement and support to explore time-based placement opportunities for the works on a rental basis. Thank you to the excellent input of the Reference Groups and the Support Group. 
Current work is progressing for 'Mining the Mind: Material Memory', an exhibition to be presented at Flinders Medical Centre, Promenade Gallery, opening July 21st 2015. http://www.flinders.sa.gov.au/ 
The works combine materials of the physical world with moving image and sound. They create a mind space where the real, the remembered and the imagined merge to become a personal retreat. 
---