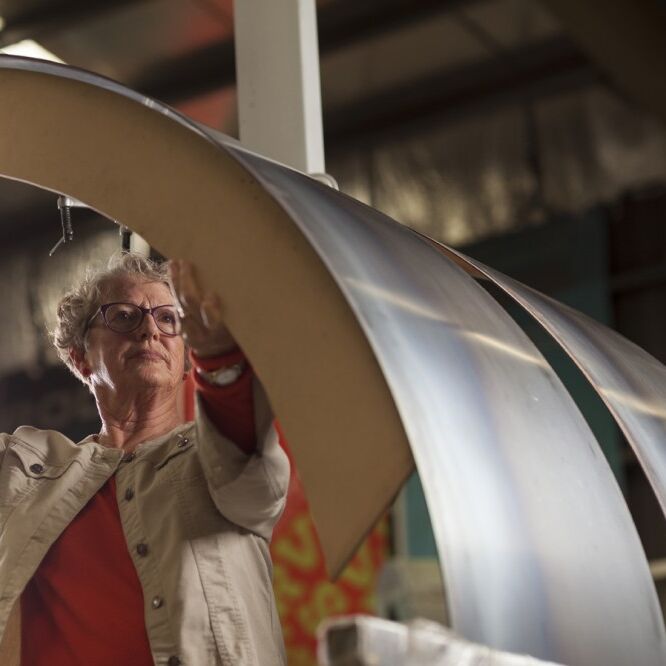 Margaret Worth
Artist and Designer
Worth is an award winning artist and designer. Exhibition work is represented in the national and state art collections and in private collections in Australia and the United States of America. The artist has  participated in prestigious invitational exhibitions including the McClelland National Sculpture Survey & Award, Helen Lemprière National Sculpture Award, Tokyo Biennale, Adelaide Biennial, the Sydney Perspecta and the Lorne Sculpture Biennale; public art projects include the Brighton Jetty, Swallowcliffe Schools and West Torrens Civic Centre SA. Influential under-graduate teachers were Dora Chapman, Geoff Wilson and Sydney Ball. Influential post-graduate teachers in New York included Sol LeWitt, Richard Serra and Lucy Lippard.
---
Public Art clients, collaborating partners and sponsors include Australian Major Events, Federal Government, Country Arts SA, The Hassell Group, Santos, Arts SA, Education Dept. SA, Australia Council, Walter Brooke & Associates P/L, Habitable Places, Jensen Planning & Design, Land Management Corp. SA, Phillips/Pilkington Architects, City of Adelaide, City of Holdfast Bay, City of Port Augusta, City of West Torrens, City of Victor Harbor and regional Councils throughout SA.
" Curiosity about the physics of the world, people and their connection to environment is what drives me." (M. Worth). The practice focuses on elemental materials combined with movement and sound. New exhibition works create a space where the real, the remembered and the imagined merge to become a personal theatre.
---